Berlin Sightseeing Tours Contact us
Your Berlin Sightseeing Inquiry
Send Your Inqiry Now. We will send you a non-binding offer within 24 hours. (Monday - Friday)
Berlin Stadtführungen Sightseeing Tours
» Berlin Stadtführungen Sightseeing Tours « is flexible and reliable when it comes to meeting the individual requirements of Berlin visitors. Our service is organizing individual planned Berlin city tours.
Maximum flexibility with dates and contents of the tours. Competent and friendly Berlin tour guides. Perfect introduction to the fascinating history and presence of Berlin. We combine Berlin's numerous sights with cultural highlights in order to make your stay a most memorable one.
The quality of our service is reliant on a professional team of qualified Berlin city guides who accompany the clients. Our partners chauffeur, coach, van and limousine service ensures mobility. Group Tours of Berlin: Comfortable coaches with 16 - 19 - 30 - 50 seats of the highest standard cater for larger groups. Experience Berlin on a guided city tour!
We are looking forward to welcome you and your tour group to Berlin!
Discover Berlin individually on a private Berlin Tour Map Berlin City Map
Private Berlin City Tour Map - Berlin walking tour - multiligual Berlin tour guides - Map Berlin
Berlin City Tour - private Berlin tour - sightseeing tours
Share this page with your friends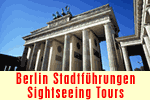 Send Berlin City Tour Inquiry
Fon: +49 (0)30 797 456 00
Short-term bookings: Check for capacities.
Reachable the whole year 8:00am - 6:00pm CET Central European Time
If you wish to book a tour on shorter notice please contact us immediately at info@berlin-stadtfuehrung.de